Home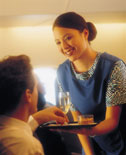 TRADEX INC. was established in 1976 and has evolved into a full airline in-flight service supplier of cabin, commissary products and amenities which include, however not limited to, headphones, disposable and rotable salt and pepper shakers, liquid hand soaps and moisturizing lotions, cutlery, chinaware, hollowware, melamine dishes, glassware, woven plastic baskets, pillows and blankets.
We are proud suppliers to many of the world's leading airlines as well as railways, cruise lines, and the hospitality & tourism industry.
The goal of Tradex is to facilitate one stop sourcing for our airline, railway, cruise ship, and hospitality & tourism customers.
Selected product inventories are maintained in strategic locations specifically to satisfy the Customers' needs within the shortest lead time possible.
Inflight service product supplier to World's Airlines, Railways, Cruise Ships, Hospitality & Tourism Industries
Global network of resources available
Strong team of knowledgeable people with extensive industry background
Customer satisfaction achieved through new product development, research, design and quality assurance processes
Home
|
About
|
Products
|
Contact
|
Site Map